If you're a Bakersfield business owner with a physical location, why not dabble in location-based marketing such as Deals within FaceBook Places? Especially because of this writing, mobile is the hottest thing since the internet.
One option is FaceBook Deals which is part of the 'checkin' geolocation segment such as Foursquare and Gowalla. Typically users check into a location which is then added to a user's social graph.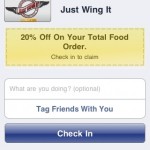 Not only does this usually broadcast the user's location to other friends, but more importantly, is leveraging these services to show nearby deals to a user's location.
Regardless of the future of companies such as FourSquare, geolocation and near field communication marketing is here to stay. And if you're not sure how this could work, let me give you a local Bakersfield example of how powerful a location-based offer could be.
Nearby Potential Bakersfield Customers
Earlier this year I went to a Condors hockey game and did a little impromptu 'check-'in test. The game itself had a reported attendance of 7,397 fans. I checked in at the Rabobank Arena on both FourSquare and FaceBook.
Just prior to the game starting, I counted how many people had checked in using both apps. As I've found trying this at other events, FaceBook consistently has more checkins, which was true on this night too; 6 FourSquare check ins vs. 48 on FaceBook.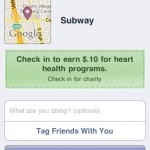 Sure 48 people is not that much in comparison to the entire attendance. But let's put that into a hyper local sales perspective, especially if you own a business near Rabobank arena. What if you could capture 4 or 5 of those customers?
When they check-in at the event, FaceBook would alert them to a 'Nearby Deal' . And why not get creative? Setup a deal to run on game or event nights and use ticket stubs as validation.
Special Event Location App Marketing

View Bakersfield Street Faire in a larger map
Another example of using location-based marketing is for those businesses near the Mill Creek Park. The Bakersfield Downtown Business Association is promoting Third Thursday events. The event this past June 16th sounded extremely successful.
Using the location of the park and adding a ¼-mile buffer around the park shows which businesses are within walking distance from Mill Creek. If I were one of those businesses, I would definitely try some marketing toward folks attending events such as Third Thursday.
I'm not going to rehash how to take advantage of FaceBook Deals–there are plenty of good articles from FaceBook, and many other articles such as here and here which will easily get you going.
And will FaceBook Places and Deals thrust your business into the spotlight, increase sales, and be the marketing answer? Probably not.
However, as location-based marketing is developed, it will play a more prominent role in your marketing mix. My advice is to at least start experimenting with it now, especially so you'll be ready in the future.
Engagement Questions: Do you know of any local businesses or restaurants in Bakersfield offering location app based deals? Will near field communication marketing be the next step?