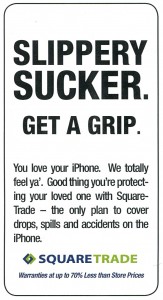 If you're an iPhone user, choosing a case is definitely not a one size or type fits all choice. In fact, I've been through several cases that just didn't work for me. That is until SquareTrade sent me a free one after purchasing a warranty from them.
But this article isn't because they sent me a free case, which I still use to this day. It could've been a crappy case and I would still be happy. Why? Because SquareTrade gets it. They are engaging their customers!
I know, I know, they sent me the case because hopefully if I have some protection on my iPhone, there's less of a chance of me filing a claim. I'm okay with that. Like I said, what's more important to me is I feel like they are reaching out to me, and in a good way.
Even the insert included with the case is marketing genius. Describing the iPhone as a 'slippery sucker' and my 'loved one' is spot-on. In other words, SquareTrade is relating to me. I would also say this increases the likeliness I would purchase additional warranties for other products.
I'm sure there are both good and bad stories in regard to filing a claim with SquareTrade, but that's not the focus of this article. I want more companies to reach out to their customers and start conversations like SquareTrade.
And while it's been over a year since they sent me a case, as of this writing SquareTrade is still continuing the free case with iPhone 4 customers as posted here and here. Bravo SquareTrade!