If you're a Bakersfield small business owner, it may seem tough sometimes to keep up with the big box chains when it comes to technology and seemingly endless budgets. One advertising area, which in the past was expensive, included digital signage.
But n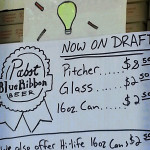 o more. This is yet another disrupted technology, which I think can be affordably implemented.
Before we get into digital signage, let's talk about where you may currently be with your signs, marketing and overall brand.
Do any of the following handwritten signs look familiar? I hope not.
And if you're not sure what's wrong with these examples, I would say it's time to up your game, and let me tell you why.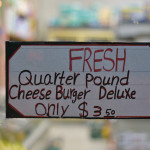 Many predict in the future, buyers will pay more for a great customer experience. In fact, some say it's already happening now!
On top of that, some studies show that in the future, 80% of your profits will come from just 20% of your existing customers, and companies will need to spend six times more to gain a new customer than selling to a regular customer. (Source: Thompson Group)
This m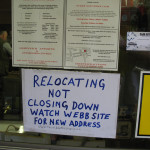 eans you need to knock the socks off a new customer with an unbelievable experience. I think dovetailing this with up-to-date technology, such as digital signage, can help any business rise above others.
A low-cost solution using a Google Chromebox, LCD display, and a little back-end app creation can give your business a high-entry, professional digital signage solution.
The Google Chromebox acts as the media server. The units are small, secure, and don't require any anti-virus software. They are extremely reliable, and can be setup to reboot at a designated downtime for a refresh.
But the real magic happens in the content. Typically digital signage uses a multizone approach to provide multiple content points. Points could include product menus, weather, videos, social media feeds, and much more!
In this era of screen time, this could be an extremely lucrative solution. We all want to look at our phones when we have downtime, so why not at least expose your customers to what's going on with your business as to promotions, specials, and of course including your customers in the conversation!
Another option would be to use scrolling images to include pictures of dishes, specials, promotions, or even social media! How cool would it be if you're a customer who in the past posted a picture of a dish on Instagram, only to come back and find it highlighted on a digital display!
This type of social media interaction encourages customers to get involved in your businesses conversation!
So my advice is this, don't let all of the disruption technologies pass you by. Jump on business opportunities that may have seemed unreachable in the past and look into solutions such as digital signage that can increase impulse sales, specials, and provide an even better customer experience!
Contact Bakersfield Computer if you're interested in seeing a free demo of how a digital signage solution could help your business.