At the recent Bakersfield Business Referral Network meet up–there were discussions started regarding what marketing and tools other owners use to find new business and clients.
There was some great brainstorming going on, but not nearly enough time to discuss the massive changes and shifts happening on the Internet.  Thus, the reason I was inspired to share some ideas about what I see coming.
And while many organizations and face-to-face meetings are still important, from an online standpoint, I cannot tell you how radically things are currently changing right before our eyes when it comes to marketing and social networking.
Are chamber of commerce groups important-yes. Will there always be a need for television ads and print material such as newspapers-for some.
But at the same time, future generations are not going to want yesterday's news once a day, and DVRs are already becoming the kiss of death for TV advertising.  What I see is that conversations are becoming the new way that we talk about businesses, products, and services.
Recently, I attended WordCamp San Francisco, and one of the themes I heard from various speakers was community, groups, and relationships.  And based on that, I wrote "conversations" on one of the tablets which asked "what does WordPress mean to you in one word."
I know this is going to sounds extremely cliché, but social networking tools such as blogging, videos, FaceBook, and Twitter are where we're heading.
Will some of these be around in the future? Maybe and maybe not.  But it's not so much the forum, but the tool itself.  Blogs are not going away.  Videos are not going to disappear.  And maybe new social networking sites will replace FaceBook or Twitter, but the concepts will still be the same.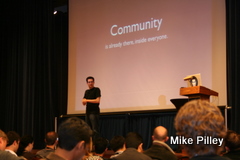 Both online and face-to-face communities, groups, and relationships will be the new evangelists, advertisers, and mavens.
What I would recommend is instead of brushing off these new technologies and trends, embrace them for what they are now, so you can stay ahead of the game in the future and maximize the potential for your business, while others are left to try and figure it out later and try to catch up.
And if you're interested in the Bakersfield Business Referral Network Meetup group, you can find more information here about signing up.  It's a great group of people who are trying to stay ahead of the curve, and are sharing ideas on how to survive in the future economy.